By Contributing Writer, Kelly Wiggains
Christmas Season is in full swing, and for my little homeschool, I am trying to stay on track with a semblance of a routine. When I am in charge of our school calendar, I can easily become one of the children, "Who needs school? Let's make cookies!" Then, I can swing the other way when I start contemplating the cost of college tuition and become a complete Grinch, "NO CHRISTMAS!! READ LATIN!! ALL DAY!!"
As usual, the key to homeschooling happiness is finding a good balance. Here are some things we do at home to keep the wheels of education rolling without losing all of our Christmas spirit.
1. Listen to Christmas Music During School Sessions:
Spotify is my friend. I honestly think anyone could homeschool with a Spotify account, YouTube, and the public library. I follow Tsh Oxenreider's Christmas playlists, and her Christmas Instrumental playlist is great for playing during school time.
2. Read Christmas Books Together:
Here is a post with some of our favorite Christmas books. We love snuggling on the couch and reading together.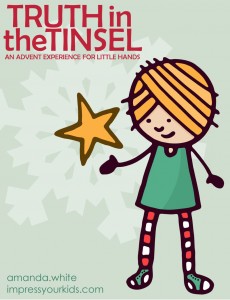 3. Christmas Crafts:
Follow my Christmas board on Pinterest, but I would also check out Truth in the Tinsel (especially for next year). It's a wonderful eBook that keeps the focus of Christmas on Jesus, and it introduces a craft and scripture that coordinate with the Jesus story every day leading up to Christmas.
4. Spend Time at Home:
The Christmas Season is a time where we can easily get distracted and try to do every fun and festive thing under the sun. The more time we can spend together at home, cherishing simple memories, the better off my family tends to be. I try to remember that my kids only get one shot at childhood, and I want their Christmas memories to be centered on reading, creating, and spending time together, not rushing around trying to find holiday entertainment.
How do you keep the Spirit of Christmas during your homeschool days?
This post contains affiliate links.